Hi, I'm Alan Geddes and welcome to our "BEYOND TABS" guitar course.
"BEYOND TABS" is a series of video lessons with a friendly support community

Here are some well informed observations…

the majority of aspiring guitarists struggle to move beyond learning a handful of chords

many guitarists often lose focus and direction

I believe I have the solution!
Based on my experience of  playing gigs – whether solo, duo, trio, or quartet, working in big bands, busking in the Paris Metro, playing on cruise liners, being mentored by world famous Jazz Guitarist Martin Taylor – no shame in name dropping – and many many years of teaching, I have found the ideal solution!
I've put all the experience and knowledge I've gathered over the years into this guitar course and know that I can help you grow as a guitarist.
Everyone understands that you can't build anything of greatness without a solid foundation – once you have a strong base all things are possible and creativity grows naturally at its own pace.
Pretty self evident? – well let's consider how the keen and aspiring guitarist sets out on his or her personal musical journey…
| | |
| --- | --- |
| | buy guitar |
| | learn a few chords from friends |
| | buy a chord book |
| | buy a simple song book |
| | lookup tab sites |
| | check out some youtube videos |
| | start to feel a bit hopeless |
| | more tab sites 8) |
So how can I take you "BEYOND TABS" to a place where your own creativity is at last set free?

I will help you build the core skills as a foundation to your playing, training not just your hands but of course your ears as well!!

Each lesson builds on the previous giving you a coherent learning experience that's not always evident in some other guitar sites.

"BEYOND TABS" will build your knowledge and confidence across a range of playing styles 
- As your understanding of melody and harmony grows you will increasingly want to improvise and even create your own songs…and we are here to guide and direct you through that process.

It is fun, song based learning.

And of course with myself ALAN GEDDES and the BEYOND TABS COMMUNITY you are never alone if you need a bit of encouragement or have a question to ask.

That's what makes BEYOND TABS different from a download course – we all learn together – at your own pace, in your own time but with support when you need it.


Learning the guitar is an exciting journey and "BEYOND TABS" is here to support you all the way
…directing…

educating…

inspiring…
Resources
Video lessons
Professionally filmed and recorded at Savalas Sound Studios in Film City Glasgow, within each module there are video lessons which take you step by step through the lesson material…
Video extract from learning songs videos.
Video extract from slow In detail What a Wonderful World Chord Melody Arrangement.
Interactive "Ear to Hand" Training videos
Ever wanted to learn to play by ear and improvise? We don't just tell you how to develop your ears musically and learn how to improvise…..we work with you to train your ears and develop your improvisation skills.  Try out this interactive "ear to hand" training video. Based on the principles of "Call and Response", listen and watch while the notes are being played and sang and then it's your turn to sing / play when when the video goes silent….
Video extract from ear training videos.
Lessons on technique
The technique lessons in the course take you from basic to advanced technique with great tips and exercises along the way…
Video extract from technique videos
Downloadable TAB and ebooklets
To enable you to look over everything that the lessons cover when you're not at your computer; all the lessons come with supporting TAB, standard musical notation and printable PDFs



Online Community
The guitar course is supported by an online forum where you'll get support from your fellow students as well as myself, Alan Geddes.
With all these resources at hand, you'll be gradually growing your ears…your technique…your knowledge…your confidence….
All the time you're learning new songs…classic songs like "What a Wonderful World"…blues songs…folk songs…
This course and support community is so exciting. If only there had been the internet and courses like this when I was starting out over 30 years ago!

 LET'S PLAY and go BEYOND TABS This is not just a one off download product…this is a musical journey…so come and join us…

The Beyond TABS Route Map
We all like to know where we are heading. Check out the Beyond TABS route map below.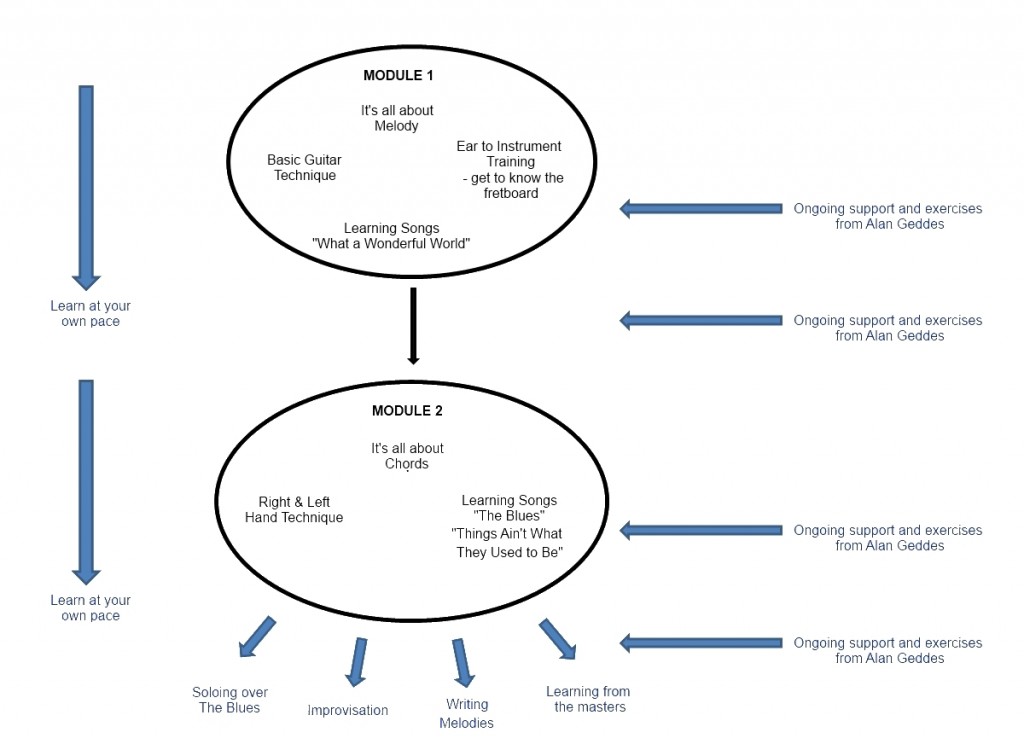 Contents of Module 1
Basic Guitar Technique:
In this module I take you through some basic guitar techniques; sitting positions, left hand technique and right hand fingerpicking.
Reading Tab and standard notation:
There are different ways to communicate music, in this module I layout the basics of both TAB and Standard musical notation investigating their strengths and weaknesses.
The Importance of Melody:
For many people melody is the most important element of music, it's melodies that move our hearts! Understanding melody is a prerequisite to improvisation. In this module I look at some of the basic principle of melody, analyzing the melody of the classic song "What a Wonderful World".
"Ear to Hand" Interactive Videos:
Learning to play by ear and to improvise is a dream of many guitarists. In this module I introduce the interactive ear to hand training videos that will lay the foundations for your future artistic outpourings!
Song Lesson:
"What a Wonderful World" In this lesson I take you step by step through a chord arrangement and a chord melody arrangement of the classic song "What a Wonderful World". Check out the promotional video of the chord melody arrangement I teach in this module.
Enjoy that?…would you like to learn to that arrangement? I teach this arrangement in Module 1 of the course…..so come and start your new musical journey now…
What does it Cost? What do I get for my money?
An initial payment of just $5 gives you instant access to Module 1 ("It's all about the Melody") and over 2 hours of video lessons in a downloadable format that provides easy navigation. Within 48 hours of subscribing the videos will also become available to stream directly from the exclusive member forum.
The videos contain all the learning I have described above together with supporting materials. But that's certainly not all…
Your ongoing monthly subscription of just $9.50 entitles you to the follow-on video and resource modules, taking you closer and closer to your musical goals. It also brings with it membership of our exclusive forums – where you can share and participate as little, or as much, as you want. It's where we all meet and swap experience and tips … The forum is where I answer questions on the modules, upload supporting exercises and you can chat to your fellow students. This type of learning and support couldn't be achieved by paying for lessons from a guitar tutor…and it's only a fraction of the cost!
SUMMARY: – First month $5 and thereafter $9.50 per month. Immediate access to Module 1 with access to module 2 after 3 months subscription, details in the routemap above. In addition I will provide access to bonus materials and help for all active subscribers via the forum. Your subscription to Beyond Tabs will be priced in your local currency and where applicable any sales taxes added prior to your final approval and payment.
NO RISK! – If you start your subscription, receive my videos, look at the forum and then decide for whatever reason you don't wish to proceed then within the initial period of 60 days you can request a 100% refund. After the initial period you can of course stop your monthly subscription at anytime.
Technical Requirements: – Module 1 consists of 14 downloadable videos (mp4 format) grouped into two screencasts "Lesson" and "Additional Resources" and a single pdf "Module 1 Workbook". Depending on your speed of connection this could take 60 minutes per screencast to download on a broadband connection. The content of Module 1 is also available in a streaming format through the Beyond Tabs community forum which all subscribers will be emailed log in details to within 48 hours. You will need an MP4 compatible video player and a pdf reader. All materials are in English and support will be provided via the forum and email in English.
 Have a question? Contact me via alan@fingerpickingguitar.org